About Marketing Department
23/06/2019
Department of Marketing-Faculty of Business Administration and other three departments co-instruct Marketing courses for the faculty and other faculties of Industrial University of Ho Chi Minh city. Since 2016, Department of Marketing has built the major code for Marketing and students are awarded the degree of bachelor of marketing as graduation.
Organisational Structure
Department of Marketing consists of 15 lecturers who are four doctors, two Ph.D. candidates, nine masters graduated from domestic and foreign prestigious universities.
Head of the department: Bùi Văn Quang, PhD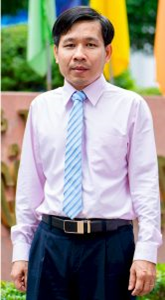 Members of deparments:
1 Vũ Thị Mai Chi, Ph.D candidate
2 Nguyễn Quốc Cường, PhD candidate
3 Phùng Tiến Dũng, MBA
4 Lê Bảo Hân, MBA
5 Trần Phi Hoàng, MBA
6 Ngô Ngọc Minh, Ph.D
7 Hà Thị Thanh Minh, MBA
8 Phan Trọng Nhân, MBA
9 Nguyễn Văn Nhơn, Ph.D
10 Trần Anh Quang, MBA
11 Nguyễn Thị Ngọc Trâm, MBA
12 Nguyễn Văn Thanh Trường, Ph.D
13 Nguyễn Thị Túc, MBA
14 Hồ Trúc Vi, MBA
Department of Marketing is in charge of :
1. Marketing Principles,
2. Consumer Behavior,
3. Customer Relationship Management,
4. Brand Management,
5. Retail Management,
6. Marketing Management,
7. Integrated Marketing Communication
8. Electronic Marketing
9. Marketing Research,
10. Service Marketing,
11. International Marketing,
12. Public Relation,
13. Banking Marketing,
14. Industrial Marketing
The objective of the Department of Marketing is to teach the courses of Marketing in application-oriented methods, ensuring students can learn Marketing theories associated with practical applications. Up to now, the Department of Marketing has trained many graduates with strong competencies, good attitudes, and behaviors for domestic and foreign companies. For strategic development, the Department of Marketing is committed to continuously improve and update the curriculum, teaching materials, and apply innovatively application-oriented teaching methods in order to provide a quality human resource for socio-economic development.